Discover Made Bride by Antonea through the publications of the biggest bridal posts both in Greece and abroad. Enjoy!
A Jaw-dropping Gilded Floating Cake
If you're ever lucky enough to visit the beautiful grounds of Villa Cimbrone tucked away high...
A gorgeous greek countryside wedding
A special day gorgeously decorated with whimsy and classic flair.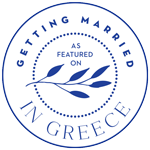 The most beautiful santorini elopement ideas
One of the most beautiful and popular Greek islands, Santorini, hosted a marvellous inspiring shoot.
Enchanted Springtime Wedding Inspiration from Greece
If you haven't heard, springtime in Greece is by far the best time of year to have a destination wedding.
Royal Red And Gold Wedding Ideas In Athens
This next beautiful wedding inspiration shoot was inspired by all the strong women out there.
A Dream Dress and Greece Make for the Most Beautiful Combo
One luck at this gorgeous inspiration (and that dress!) and you'll quickly jump in Corfu.
Stunning next day shoot in Rhodes
Today we share a beautiful photo with you in the old town of Rhodes.
Lovely wedding with orchids in Monemvasia
With their own personal style they created a very beautiful wedding with interesting choices
Santorini wedding ideas
Santorini has a special place in my heart after a few adventures there with workshops over the years.
Peony inspired pastel wedding ideas in Santorini
Raise your hand if you're inspired by all things peony this time of year!